Spray drying is a global industry, where liquid is sprayed generally at a high pressure into a heated chamber, to produce a powder consisting of the solids from the liquid. These liquids could be milk, coffee, protein solutions or other liquids where a dried or soluble form is required.
Some typical examples of spray-dried products:
Milk or creams
Coffee
Proteins & cheese's
Baby formulas
Although the above list is much larger, these examples are some of the most commonly spray-dried products on the market.
One of the benefits of using nozzle technology for spray drying is the ability to regulate particle size and relative moisture of the particles amongst a wide variety of other factors including density and flow. This provides a great flexibility over traditional approaches to spray drying such as a rotary disc dryer which because of the design of the disc itself can never increase it's flow rate or allow for a greater variability (unless disc size & rotation speed is changed, which is very expensive) in particle size.
As a further note, nozzles can be arrayed within the drying chamber allowing more volume to be sprayed corresponding to the number of lances and is highly scalable from a single nozzle pilot, up to a large scale drier that could have up to 48 spray dry lances at 27 tonne per/hr.
Spray Nozzle Engineering has patented & uniquely designed the CLICK&DRY® spray drying nozzle technology to increase powder quality, improve hygiene, extend hardware life, and boost plant profits.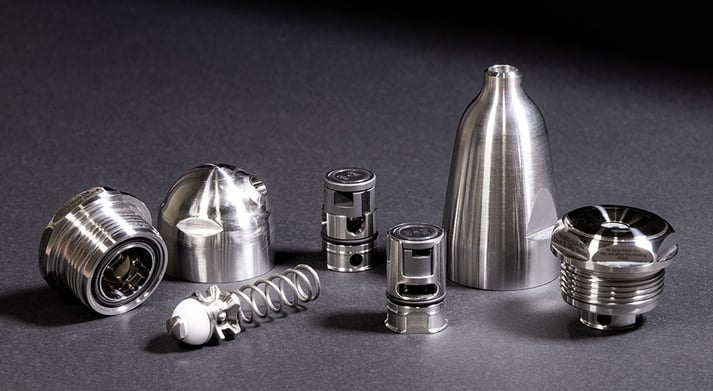 CLICK&DRY is the premier spray drying nozzle technology, with patented features such as Seal-In-Disc® technology to reduce build-up on the nozzle face, which is a critical safety measure. As well as reducing build-up on the nozzle which leads to longer run times and less maintenance. With its smooth internal fluid path and large threads for ease of use it reduces the risk of damage during assembly and disassembly. It also features axial sealing which is the most reliable sealing method available and allows high pressure containment without backup rings.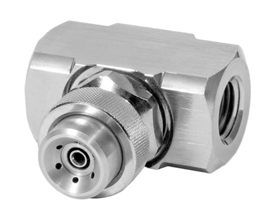 Another method of spray drying, is an air atomising nozzle assembly, such as the XA series of nozzles; these nozzles can be supplied with external or internal mixing designs, that allow for precise and granular control over particle size and flow rates. One of the benefits of using such an assembly is that air atomising setups are highly customisable, require less maintenance, and are a very flexible inflow rate typically producing much lower flow rates than dedicated spray drying nozzles such as CLICK&DRY.
Spray Nozzle Engineering is a worldwide supplier of patented spray drying technologies.
Having issues in your current spray dry nozzles?