QUALITY POWDER: Click&Dry™ nozzles increase your powder quality with our unique advances in consistency, hygiene and build-up reduction.
Learn why CLICK&DRY™ Spray Dry Nozzles produce and are focused on

Quality Powder

:
With over two decades of experience working with plants in dairy and food manufacturing, among others, Spray Nozzle Engineering has developed product solutions focusing on powder quality, extending nozzle life, and reducing overall powder wastage or compromises on quality.
One of the ways this is achieved is by using Click&Dry's unique patented nozzle technologies. These cutting-edge and proprietary technologies have not only helped create a consistently better powder but have also reduced plant downtime, and maintenance improved hygiene and overseen a drastic reduction in wear part breakages and consumption over a period of many years. Plants that opt for Click&Dry spray dry nozzles and componentry typically never change back once installed onto their lances. They have high praise for the elimination of various issues that plague the industry.
One main concern for plants when spray drying, in particular, is powder quality issues. Chief amongst these would be inconsistency with the powder itself. Traditionally some nozzle designs had misalignments between the 'swirl chamber' and 'orifice disc' within the nozzle cap. When the nozzle is assembled, misaligned wear parts can modify laminar flow through the nozzle, increase wear rates, alter spray characteristics, and even contribute to cap build-up in some products.
This can be remedied by utilising Click&Dry's proprietary 'Concentric Clasp Technology'. This design allows the wear parts to stay aligned during spraying. This helps to achieve consistency across all lances. Thus, enabling consistent flow, performance, and predictable spray quality.
Why is concentration necessary at all? Well, as liquid enters into the swirl chamber, it spirals inwardly towards the orifice. As it moves toward the orifice it increases its velocity quickly. Without exact alignment of the orifice and the swirl, the performance and consistency of the spray pattern and powder are greatly affected. Fortunately, Click&Dry provide the only nozzle that provides the greatest alignment of these core parts.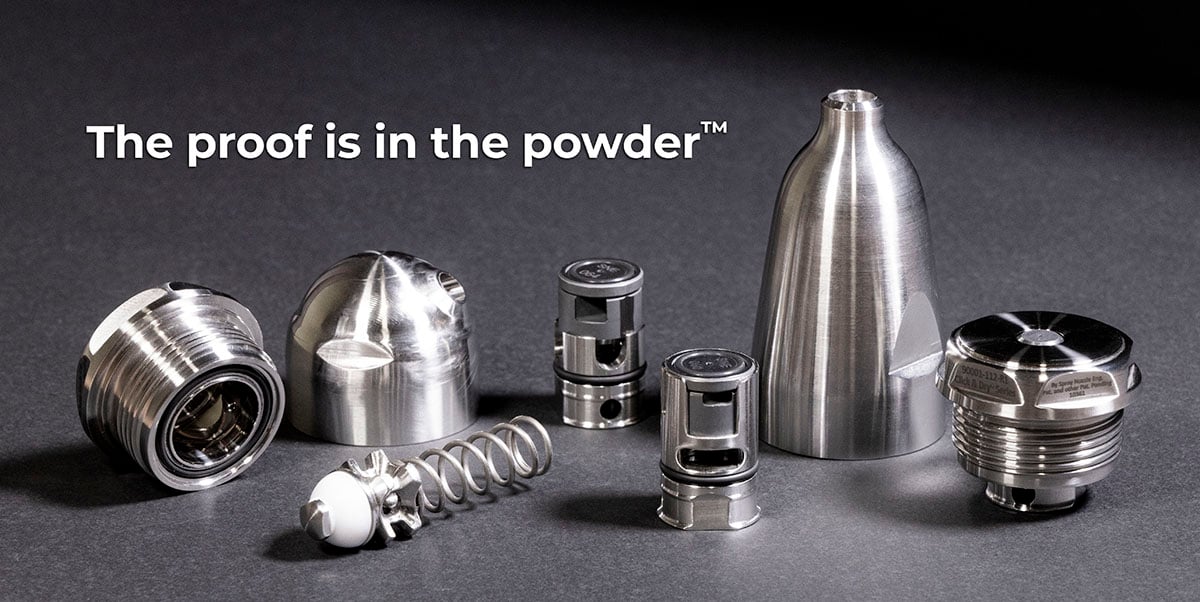 Our new brochure is finished. Click below to download. We're excited to share with you our latest innovations and how we can improve your spray drying production.
DOWNLOAD - The latest Spray Dry Nozzle advancements