LONGER LIFE: Other nozzles systems are made to be disposable, while our CLICK&DRY™ system is built to last, significantly improving reliability.
Learn why CLICK&DRY™ Spray Dry Nozzles are proving again and again to have a MUCH

Longer Life

than all its competitors:
The amount of time we spend in dryers is almost equal to the amount of time you spend in them. Having long-lasting consumables and parts is imperative to us, and that is why we care about their durability. Among the reasons why Click&Dry was created is that it extends the life of wear parts and nozzle caps by a great deal. As a result, your dryer can operate for longer periods of time between changes, reducing production costs and downtime.
A simple way that Click&Dry extends the life of the nozzle is by changing dated assembly and disassembly procedures. In the past, disassembling nozzles with baked-on products presented a challenge. Often impact tools including hammers and punches were employed. This led to wear parts being damaged and broken. As a result, this drastically increased wear part replacement costs and spray performance issues.
One way to fix this issue that Click&Dry presented was the use of tools developed specifically for Click&Dry products. These tools do not require impact tools or direct contact with breakable wear parts. This simple solution minimises wear part breakages, and as a result, reduces operating costs as they need not be replaced. As no damage is being incurred to the worn parts, this helps to ensure consistent spray performance, alongside this our Axial sealing technology, which is world-leading, shields crucial pressure seals instead of the outdated exposed radial body seals. Click&Dry provided soft handling baskets can also help to minimise any potential damage to the caps.
Another common issue with nozzles in the spray drying industry is damage to the threads of the cap (which can often happen, as they need to be taken off the lance multiple times). Unprotected sealing faces and binding of threads are also common problems.
As ordinary thread systems are too fine to resist normal impact damage, this can lead to binding and seized parts, which can sometimes require anti-seize chemicals or lubricants. Additionally, unprotected sealing faces can be easily damaged during handling. This can result in having to cut or re-weld the nozzle bodies, and expensive downtime. To protect the seal groove from damage, ensuring that the components remain functional. Only nozzles provided by Click& Dry have a strong, distinctive thread form that fends off thread binding and impact damage.
Want to hear from a spray nozzle expert about how we can reduce your downtime, and operating costs and increase plant profit? Well, as we say - the proof is in the powder. Please call or email us at - sales@spraynozzle.com.au for any assistance!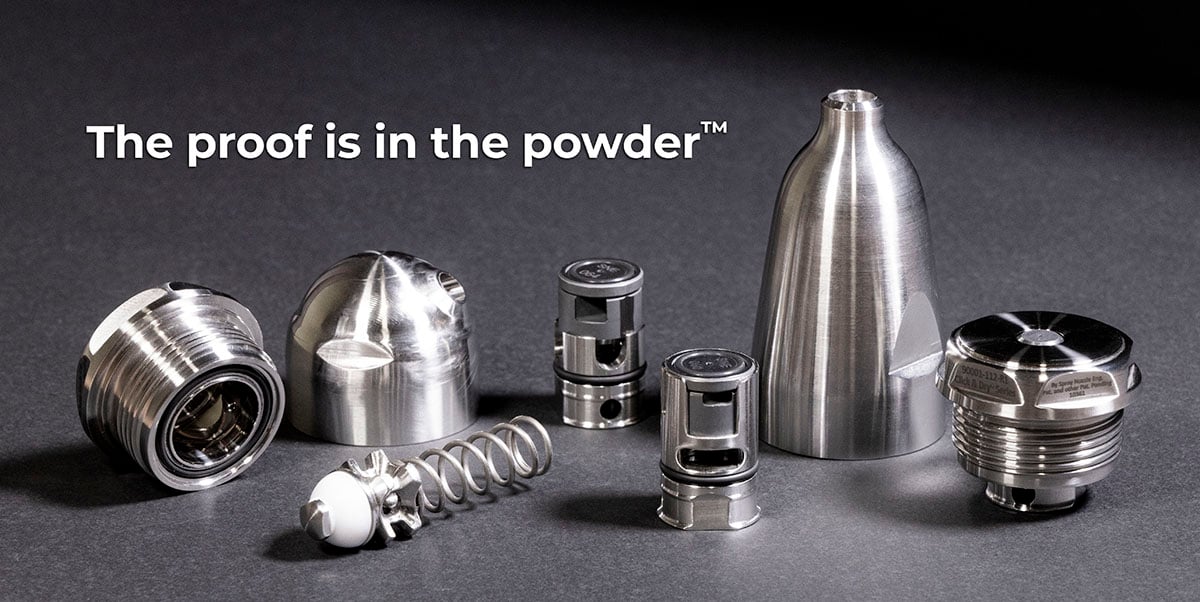 Our new brochure is finished. Click below to download. We're excited to share with you our latest innovations and how we can improve your spray drying production.
DOWNLOAD - The latest Spray Dry Nozzle advancements